A CHI È RIVOLTO
Anestesisti e rianimatori
,
Biologi
,
Cardiochirurghi
,
Cardiologi
,
Infermieri
,
Infermieri pediatrici
,
Intensivisti
,
Medici di medicina generale
,
Medici internisti
,
Nefrologi
,
Patologi
,
Pediatri
,
Tecnici della fisiopatologia cardiocircolatoria e perfusionale cardiovascolare
,
Tecnici sanitari di laboratorio biomedico
The pandemic emergency called Covid-19 (Sars-Cov-2) continues to impose measures of prevention that include social distancing, limitation of international travels and conferences where crowding would be inevitable. For this reason, the organizing committee of the Vicenza AKI and CRRT conference 2021 has decided, in collaboration with the scientific committee, to maintain also for the 2021 edition the fully virtual modality. As last year, the special web-based platform has been further improved to ensure the perfect fruition of the scientific program, and the possibility to follow the presentations by the registered guests also a few months after the event on our educational IRRIV web site. The course will be distributed over 4 days in which the time of scientific webinars and controversies will cover the selected topics in a series of sessions for a duration of 3-4 hours/day. The webinars contain a compendium of current knowledge on Critical Care Nephrology and cover two main topics: 1) Acute Kidney Injury (AKI) describing the epidemiology, pathophysiology, mechanism, prevention and diagnosis through biomarkers and action strategies in different settings such as cardiac surgery, intensive care unit, cardiology, nephrology and sepsis. 2) Continuous Renal Replacement Therapies (CRRT) describing indications, modalities, prescription and delivery, different techniques and clinical results. Special emphasis will be given to conditions of kidney damage/dysfunction, sepsis, fluid overload and settings such as oncology, cardiology and cardiac surgery, trauma and sepsis, and finally septic shock. The new sorbents, membranes, machines and therapies available in this field are presented as well as new treatment strategies and recent trials in the field.  Finally, a section will be dedicated to the SARS-Cov-2 pandemic and the consequences in intensive care and nephrology. A series of lectures and panel discussions will be delivered during the days of the course. Our task is to put together specialists from different disciplines in a single scientific event with a multidisciplinary approach to the critically ill patient with acute kidney injury and multiple organ dysfunction. Recordings containing most of the material presented at the course will be accessible for a month to participants in order to perpetuate the educational message of the course and enable those who could not take part in any of the sessions, to follow and learn off line. For 38 years we have been a cornerstone in education and science in the field of critical care nephrology and we tried to make an important effort for a better patient care. Companies and Members from the industry of the field are invited to join the event reserving Virtual booths and scientific spaces in between the program scientific sessions, providing additional information in areas and topics of their choice. This is a unique event in 2021 and it will serve as a pillar for knowledge and education in the fields of AKI, CRRT and Critical Care Nephrology. Claudio Ronco
General Info
The registration fee of 250€ (tax included) will include: attendance at the scientific sessions, attendance certificate, attendance at the sponsored symposia and at all the sponsored activities, access to on-demand contents available until December 31st  2021, access to the Q&A during the meeting
DEADLINE – Registrations will close on October 22nd, 2021 – h 18:00 CET
CANCELLATION POLICY  – Cancellation is possible until October 17th, 2021                    All the requests must be submitted by e-mail to office@npsevents.it
Call for E-POSTERS!
The Scientific Program Committee is glad to inform that the congress will host a special virtual E-Poster area.
Send an Acute Kidney Injury or a Critical Care Nephrology E-Poster with its abstract that will be published in a special issue of Blood Purification!
E-Posters and abstracts must be submitted contextually to info@irriv.com by October 8th, 2021.
Presenting authors should pay the registration fee and attend the meeting.
Check carefully the E-Posters and abstract guidelines. Download here the material.
**MEDICI SPECIALIZZANDI (Italians Only). Il congresso è lieto di mettere a disposizione un numero limitato di iscrizioni gratuite per Medici Italiani iscritti a Scuole di Specialità in Nefrologia, Cardiologia, Cardio-Chirurgia, Terapia Intensiva e Medicina D'Emergenza-Urgenza che presenteranno un E-Poster in occasione del congresso. Per candidarsi sarà necessario inviare l'E-Poster con il relativo abstract (riferirsi alle linee guida sopra riportate) unitamente al certificato di iscrizione alla Scuola di Specialità a info@irriv.com.
Verranno accettate le richieste inviate entro e non oltre l'8 Ottobre p.v. e complete della documentazione necessaria.
Le richieste sottomesse con documentazione incompleta o ricevute dopo tale data NON verranno accettate.
Con il patrocinio della Società Italiana di Nefrologia   
Technical Info – PC Windows (7 and newer releases), Mac (from macOS 10.9 to newer releases), Linux. Android or Apple iOS devices. – cable or wireless (Wi-Fi o 4G) internet connection with stable broadband connection (at least 2 Mbps in download). – built-in or cable connected speakers – minimum screen resolution 800 x 600 (but not less than 1024 x 768)     Browser:   – Windows: Chrome 30+ (suggested). Edge 12+, Firefox 27+ – Mac: Chrome 30+ (suggested), Safari 7+, Firefox 27+ – Linux: Chrome 30+ (suggested), Firefox 27+ Accreditamento ECM (Italians Only) 
Provider: NEW PROGRESS SERVICE SRL – Provider No.: 1257
ID Evento: 1257-331050 Ed.1
Crediti Assegnati: 21
Piattaforma FAD: https://npselearning.it/
Il corso è stato accreditato per le seguenti professioni sanitarie: Anestesisti e rianimatori, Biologi, Cardiochirurghi, Cardiologi, Infermieri, Infermieri pediatrici, Intensivisti, Medici di medicina generale, Medici internisti, Nefrologi, Patologi, Pediatri, Tecnici della fisiopatologia cardiocircolatoria e perfusionale cardiovascolare, Tecnici sanitari di laboratorio biomedico

PROGRAM OF THE DAY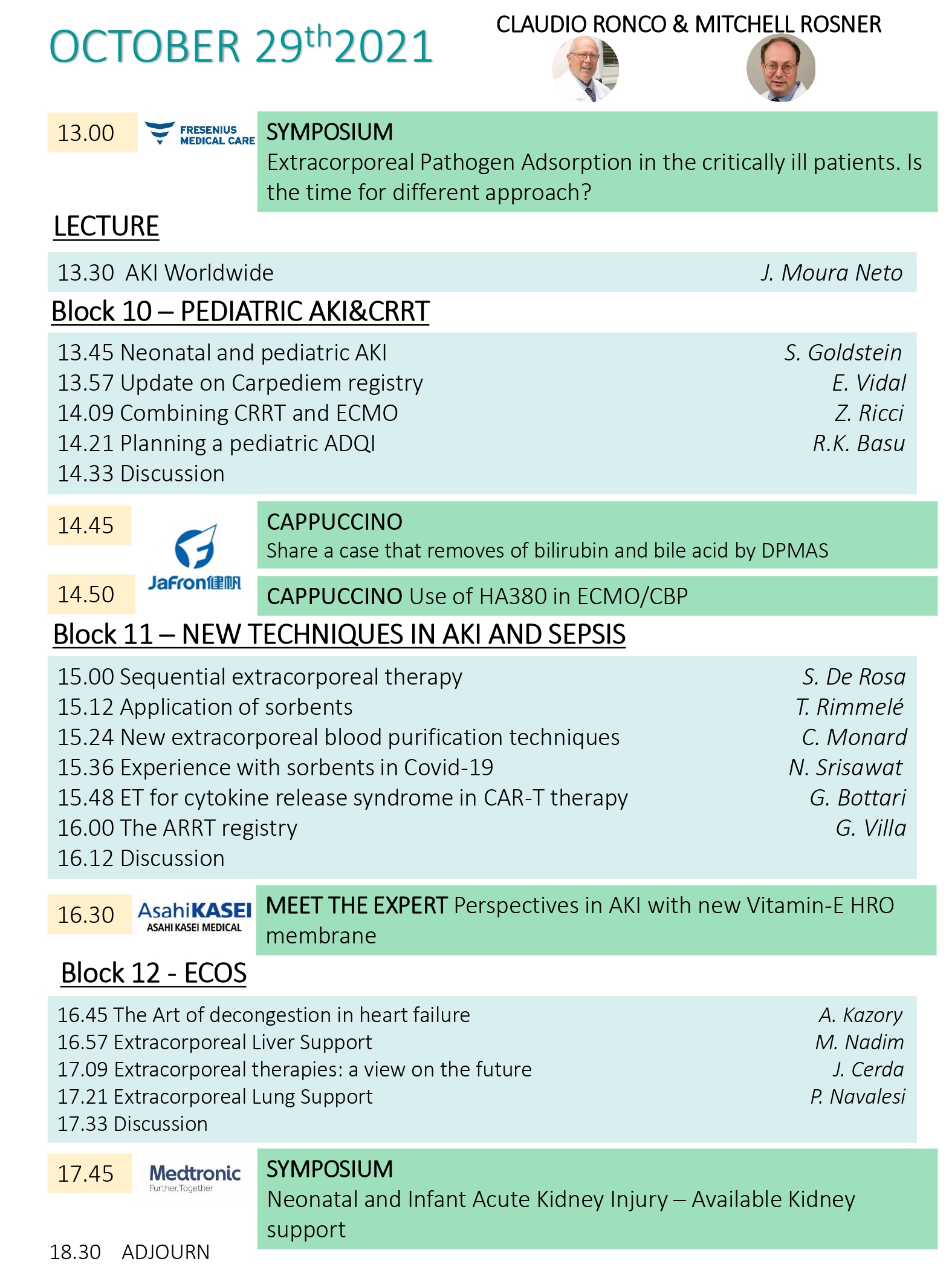 SPONSOR AREA
We are thankful to the following companies for sponsoring
the 39th Vicenza Course on AKI & CRRT – virtual meeting

SPONSORED SLOTS TIMETABLE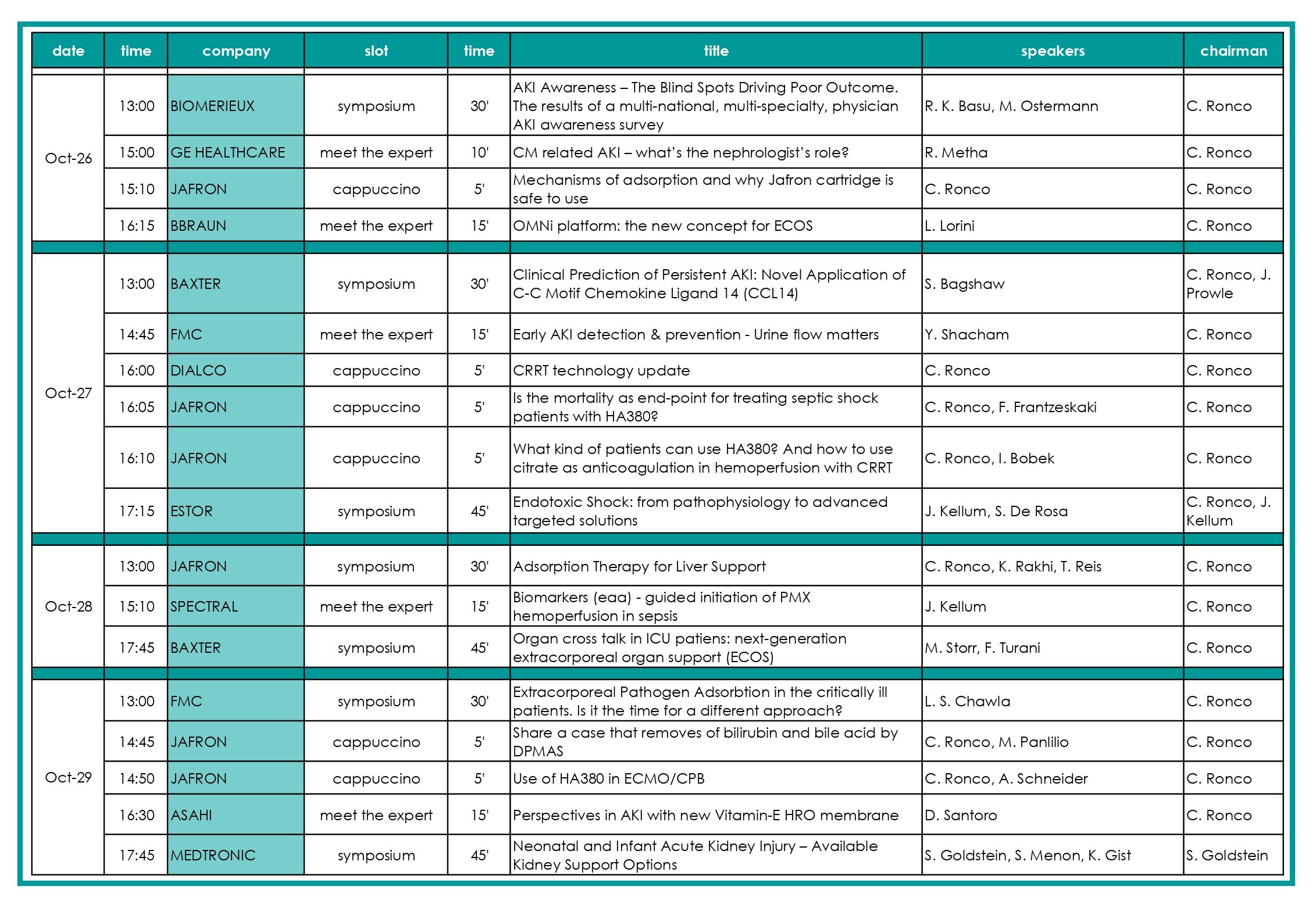 SPONSORED SLOTS PROGRAM